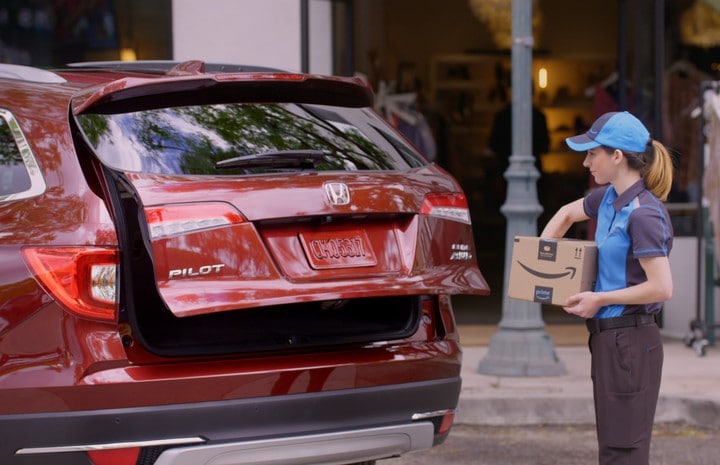 Honda is now offering Amazon In-Car Delivery service for subscribers of its HondaLink® Remote Services connected-car system. These services are offered through the Key by Amazon app. With this service, owners of select Honda vehicles with compatible HondaLink® Remote Package and Amazon Prime membership can now opt to have their packages delivered to their vehicles.
How does it work? Well first, Key by Amazon In-Car Delivery is available at no additional cost to owners of select trim levels of Accord, Accord Hybrid and Insight sedans, Passport and Pilot SUVs, and Odyssey minivan with a HondaLink® Remote Package subscription. In addition, customers must also be Prime members and located in one of the areas supported by the Key service.
Members can download the Key by Amazon app to their smartphone, log-in with their Amazon.com account information, and then select the year, make, and model of their Honda. The Key by Amazon app requests the user's HondaLink® credentials, which then enables Amazon delivery agents limited use of the remote features through HondaLink®. Once you have everything setup, and a delivery location is registered, customers can shop on Amazon.com and select the "In-Car" delivery option at checkout.
When delivery day arrives, customers should park within two blocks of their selected delivery address. Customers will receive a 4-hour delivery window and an "Arriving Now" notification when the delivery driver is actually headed to their vehicle. Then, when Amazon determines that the customer's car is within the correct range of the delivery address, the driver will locate the car using its GPS location.
Once the vehicle is identified, the driver scans the package and requests for the vehicle to be unlocked. When unlocked, the driver places the package inside the car and then requests for the vehicle to be locked once again.
Once the in-car delivery is completed, customers receive a notification from the Key by Amazon app letting them know that their car is locked and that they have a package waiting inside.
As an extra perk, for a limited time, Amazon customers will receive a $10 Amazon gift card after placing their first In-Car Delivery order.
Want to find out more about the Amazon In-Car Delivery service? Contact us today at Courtesy Palm Harbor Honda.