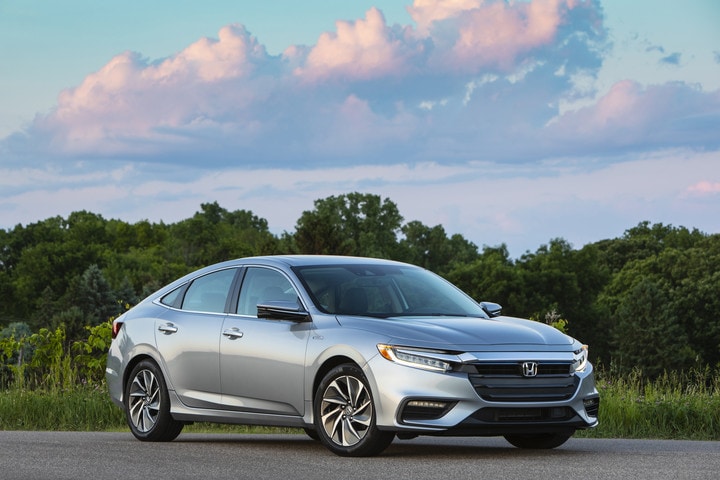 The 2019 Honda Insight will not only offer class-leading power and passenger space, but it also will have universally appealing styling, while also bringing a brand new level of driving sophistication and style to the compact hybrid market.
The Insight's body, chassis and powertrain combination provide a surprisingly satisfying driving experience. Total system output of 151-horsepower provides brisk acceleration compared to other hybrids, putting it among the best hybrids on the market. Furthermore, with its pricing, the Insight makes it easier than ever to save at the pump while looking good doing it.
The Insight will come in three different trim levels – the LX, the EX, and the Touring. All Honda Insights will come standard with multi-element LED headlights, push-button start, and the Honda Sensing® suite of advanced safety and driver-assistive technologies.
Important will be energy regeneration and the Insight helps drivers maximize this through the use of steering wheel-mounted Deceleration Selectors. These will work similar to transmission paddle shifters. The Insight's Deceleration Selectors will let the driver toggle between three different levels of regenerative braking performance. To increase regenerative braking, tap the left, to reduce it, tap the right. This system not only increases battery charging via regeneration, but it also helps reduce stress on the brakes, and lets drivers tailor their regenerative braking level based on many different driving conditions.
The 2019 Insight joins an expanding lineup of electrified Honda vehicles, including the Clarity and the recently introduced Accord Hybrid. These electric models represent the next generation of Honda vehicles as the company advances toward its global initiative to grow their electrified vehicle availability to two-thirds by 2030.
To find out more about the 2019 Honda Insight, contact Courtesy Palm Harbor Honda today.