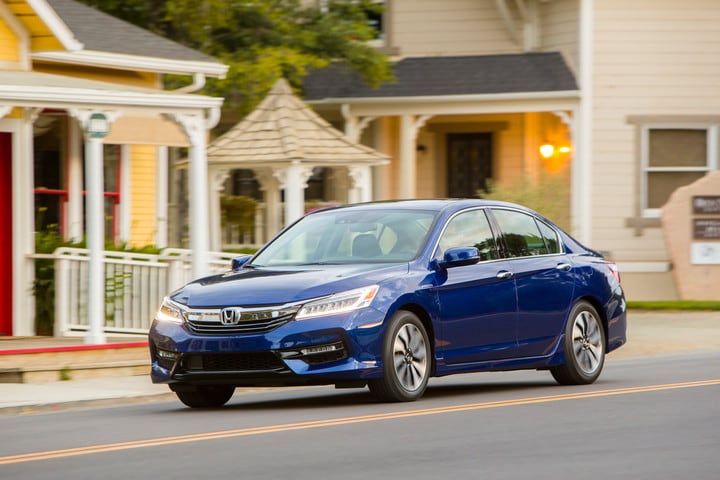 Exciting news for Honda drivers! Four 2017 Honda models were awarded 2017 Kelley Blue Book "Best Resale Value" Awards by the experts at Kelley Blue Book. They are the Honda Accord Hybrid, Honda Fit, Honda HR-V and Honda Ridgeline.
The awards recognize the new vehicles that are anticipated to best retain their value over their first five years of ownership. This data is based on the Kelley Blue Book Official Residual Value Guide. Kelley Blue Book knows that picking a vehicle that has excellent resale value is an important thing that buyers keep in mind when searching for a car, truck, or SUV. They know that as much as you love your vehicle that you are about to buy, at some point, it is certain that you will also be selling that vehicle. Picking a vehicle with a strong resale value will mean the initial cost of car ownership will be much lower than it would be with a vehicle that does not retain its value.
The 2017 Kelley Blue Book "Best Resale Value" Awards are based off of the best research and analysis in the industry. The resale value projections take into account current vehicle data, market conditions for each vehicle, sales data, competition within vehicle segments, expectations of the future economy and the combined experience of Kelley Blue Book's team of market and pricing analysts.
The awards recognize automakers' outstanding achievements in producing vehicles that best retain their value over the first five years (60 months) of new-vehicle ownership.
As far as Honda's awards are concerned, the Accord Hybrid won in the Hybrid/Alternative Energy Car segment, Fit for best Subcompact Car, HR-V for best Subcompact SUV/Crossover, and the Ridgeline in the Top 10 category.
Looking to purchase a car with high resale value? Make sure to contact Courtesy Palm Harbor Honda today to find out more information.