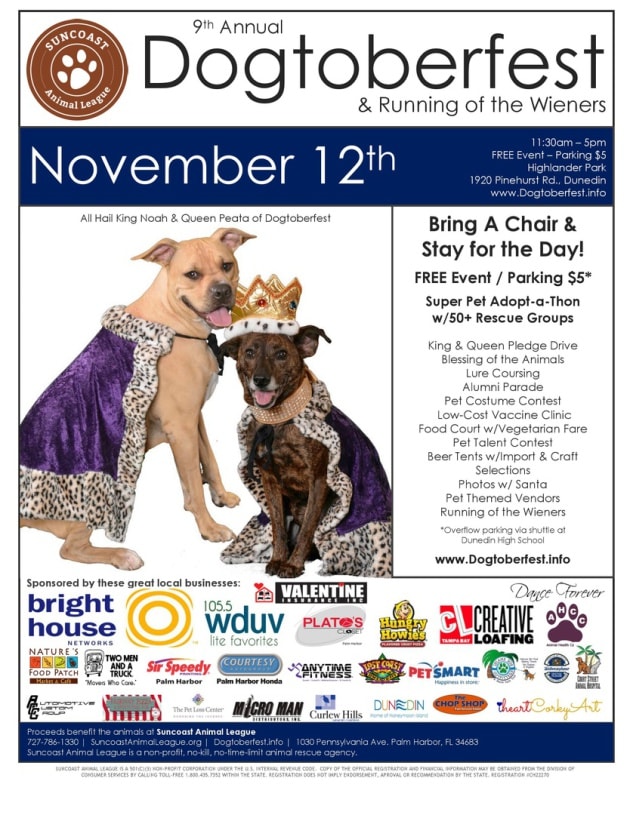 Courtesy Palm Harbor Honda is proud to be a sponsor for the 9th Annual Dogtoberfest on Saturday, November 12. The event is presented by Suncoast Animal League and will be taking place at Highlander Park from 11:30 a.m. until 5:00 p.m.
This is the largest pet adopt-a-thon in North Pinellas. Dogtoberfest is a great way to meet local non-profit, animal rescue groups with dogs ready for adoption. Some groups are breed-specific and can answer questions about personalities and traits which can help you decide which dog is right for you.
The event will also include:
- The Running of the Wieners - Registration Deadline is at 3:15 p.m. and Race Time is at 3:45 p.m. Registration fee is $7.00.
- King & Queen Pledge Drive and Coronation – 1:45 p.m.
- Blessing of the Animals – 11:45 a.m.
- Lure Coursing
- Pet Costume Contest – 12:15 p.m.
- Alumni Parade – 3:00 p.m.
- Low-Cost Vaccine Clinic
- Food Court w/Vegetarian Fare
- Pet Talent Contest – 2:30 p.m.
- Photos w/ Santa – 11:30 a.m. until 5:00 p.m. Photo package costs $13.00
- Pet Themed Vendors
- Beer Tents w/Import & Craft Selections
Attendees are invited to bring a chair, a blanket, and their pets and stay for the day.
While the overall event is free, there is a parking fee of $5.00 and overflow parking can be found at Dunedin High School, where a shuttle will be available.
Suncoast Animal League is a non-profit, no-kill, no-time-limit animal rescue agency, that takies in abandoned, abused, homeless and unwanted animals. Through private donations and fundraisers such as "Dogtoberfest," Suncoast Animal League is able to provide medical treatment, shelter, socialization and plenty of love to animals while they wait for their forever homes.
For more information about this year's Dogtoberfest, make sure to check out their website.