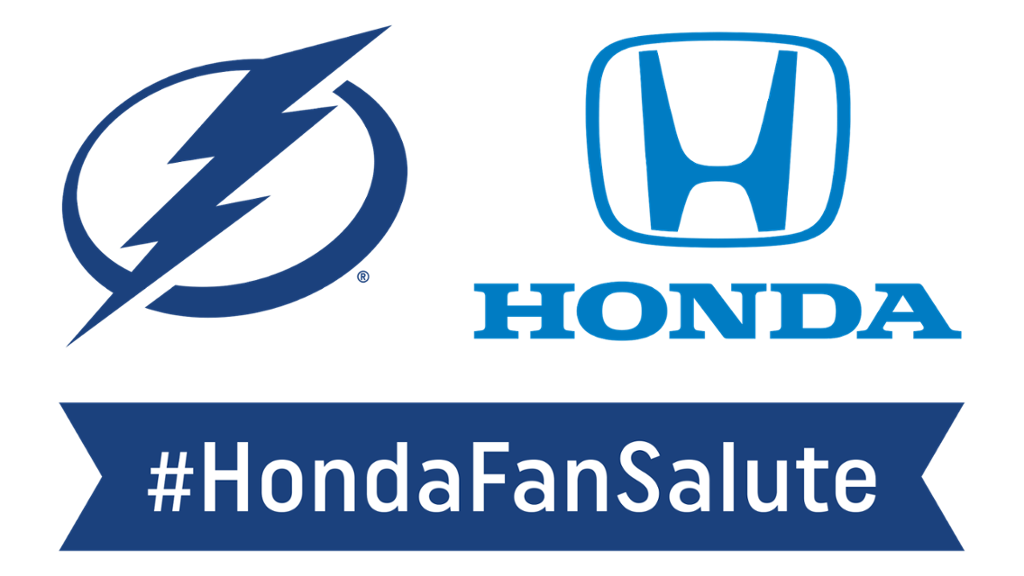 We know that Lightning fans love their Bolts and we have the perfect way to tie-in and leverage your passion for your favorite hockey team. Courtesy Palm Harbor Honda is participating in the Honda Fan Salute. The contest is once again in full swing and we are inviting you to be part of the fun while cheering on your team, the Tampa Bay Lightning.
Here's how the Honda Fan Salute works. Fans of the Lightning will have the ability to upload a picture of themselves to their favorite social media site. They should use #hondafansalute, as well as #courtesyhondaph on Twitter, Instagram or Facebook. Once your salute is posted, you will then automatically be entered for a chance to become one of four monthly finalists. Monthly finalists will be voted on by fans and one will ultimately become the monthly winner. This winner will receive an invitation of a lifetime. They will have the ability to attend a Tampa Bay Lightning practice!
Then on April 1, in a game against the Montreal Canadiens, one of the lucky five monthly winners will have the opportunity to become the grand prize winner. This grand prize winner will drive away with a two year lease of a Honda Accord LX Sedan!
Last year's Gulf Coast Honda Dealers' Lightning Fan of the Year winner was Erin Furlong. Representatives from the Gulf Coast Honda Dealers arrived at Erin's house to deliver the good news that she had won. In addition, also on hand for the festivities were members of the Tampa Bay Lightning Marketing team; 2 of the Lightning Girls; the Lightning mascot, Thunderbug; and Lightning Alumni and Captain of the Stanley Cup-winning Tampa Bay Lightning team, Dave Andreychuk.
Official rules for the Honda Fan Salute contest can be found here. For more information about the contest overall, check out HondaFanSalute.com
So have fun, get creative, and take a picture of yourself or your family member showcasing your Bolt pride. Most important is that we want you to show why you are a great Tampa Bay Lightning fan.